Sleep Inn & Suites
132 Meadow Hill Ct.
Mooresville, NC 28115
Nightly Rates: ($67.99 - $122.99)
map
Hotel Description:

35 race teams located in Mooresville, known as Race City. Restaurants close by. Nascar Busch, Grand National Craftsman truck series, Lake Norman, fishing and boating located nearby as well as the Auto racing Hall of Fame. As of 01/21/15 the pool and spa is currently closed and is undergoing remolding.

Check In: 3:00 PM
Check Out: 11:00 AM

Native currency: American Dollars
Number of floors: 4
Number of rooms: 71


Restaurants:
Cracker Barrel:
Golden Corral:
Lancaster BBQ:
Texas Steak House:
Red Robin:
Applebees:
Bob Evans:
Chili's:
Big Al's Pub:
Vinnies:
Hooters:
Sky Bar:
MJ's Bar & Grill:
Jokers Dueling Piano Bar:


Recreation:
Indoor pool


Room Info:
Handicap room, Non-smoking, Sofa bed


Hotel Amenities:
(additional fees may apply to certain amenities)
AM/FM radio
Coffee/Tea maker
Exercise gym
Indoor pool
Outdoor parking
Safe deposit box
Alarm clock
Complimentary full american breakfast
Free movies/video
Iron
Parking
Telephone
Bus parking
Desk
Hairdryer
Microwave
Pay per view movies on TV
Cable television
Elevators
High speed internet connection
Onsite laundry
Refrigerator
Photo Gallery:

Prev
Next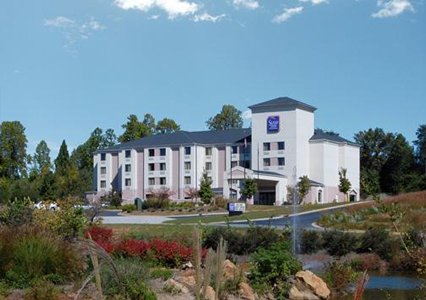 Exterior
Sorry there are no virtual tours available for this hotel at this time.
Douglas International Arpt

Concord Airport

Statesville Municipal Arpt

Auto Racing Hall of Fame

Bank of America Stadium

Birkdale Golf Club

Carolina Raptor Center

Carolina Renaissance Fest

Charlotte Coliseum

Concord Mills Mall

Dale Earnhardt

Dale Earnhart Inc.

Discovery Place

Duke Power State Park

Fishing

Golf Courses

Lazy 5 Ranch

Lowe's Motor Speedway

Mallard Head Country Club

NASCAR Tours

Northlake Mall

Penske Racing

Queen's Landing

Roush Racing

Water Sports

JR Motorsports

Kyle Busch Motorsports

Rusty Wallace Inc

Red Bull Racing

PIT Indoor Kart Track

Memory Lane Museum

George Pappas' Victory Lanes

Mooresville Golf Course

Amstar Cinema

Benchwarmers Sports Complex

NASCAR Hall of Fame

Discovery Place Kids

NC Auto Racing Walk of Fame

Carrigan Farms

Carowinds Amusement Park

Waltrip Raceworld

US Natl Whitewater Ctr

Billy Graham Library